Office Cleaning Alpharetta GA
Whether you are an office worker, building owner, or tenant, your office building will always need to be clean and neat.
Not only does a clean office have a positive impact on the workers, but also looks more professional.
By hiring Fabulous Cleaning, your office will always remain clean from dirt and possible illnesses, but also prestige in the eyes of your competitors.
We offer the best Office Cleaning Services in Alpharetta Georgia
A large part of keeping your office clean and organized is daily office cleaning. Not only does a clean office make it more comfortable to work in, but it will also help you remain organized and productive.
That is why we have prepared teams of cleaning experts, who have years of experience in cleaning offices in Alpharetta Georgia.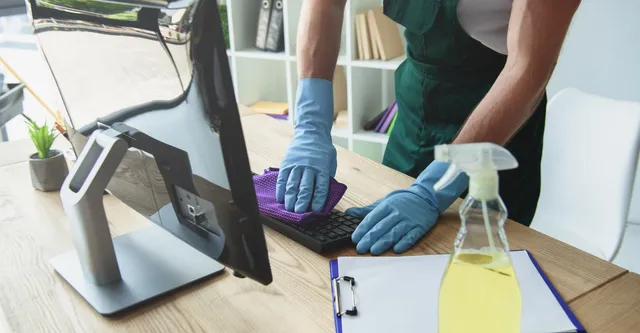 As a new potential client, we would like to make a small overview of what our office cleaning services offers, but is not limited to:
Keep your desk clean by removing any trash and clean the dust from it.
Keep your floor clean by vacuuming even the hardest to reach edges without harming cables.
Keep your kitchen clean from food stains, crumbs and precisely dry every single spot to avoid incidents.
Keep your bathroom hygienic and sparkling clean.
Keep your carpets well vacuumed and cleaned with the finest materials, so no stains, mold or dirt can ever be on your carpet.
Once we are done with cleaning your office, we perform disinfections to protect you from unwanted viruses, such as Covid19 and prepare it for an outstanding working experience.
What do our office cleaning services in Alpharetta Georgia Offer
We work with home owners in Alpharetta, GA. With our maid and kitchen cleaning operations, we'll ensure that the room in which you'll inhabit always sparkles.
With Fabulous House Cleaning you don't need to worry about the health conditions of your office, as this will be our priority.
And to ensure that we can help you make the right choice we have made a list of what our office cleaning services in Alpharetta offer you.
House cleaning services – We offer a special scheduled deep cleaning process, which can be done on a daily basis, or custom schedule. Our home cleaning services cover whole-home cleaning, including your garage.
Move-in Cleaning services – As new homeowners, you would like your home to be sparkly clean and to be perfect for living. Our fabulous cleaning experts are always ready to clean your home thoroughly and
Move-out cleaning services – We clean and prepare your home for the next family, which will take care of it. Our cleaning professionals will ensure your home is spotless, just like a brand-new house.
Office Cleaning services – Prepare a dedicated and highly trained team to quickly clean and disinfect your office, so you can have a clean and healthy working environment.
Upholstery cleaning services – Precise sofas, couches, mattresses, sheets, and pillows which includes the removal of all kinds of stains, bugs, and unwanted pesticides.
Carpet & Rug cleaning services – Cleaning services that are dedicated to carpets and rugs, which ensures that the quality of the carpets and rugs will be kept. Our cleaning services make your carpets and rugs shine like brand-new.
Maid Cleaning Service – Send specialized maids, dedicated to ensuring your home is clean and take over the housework for you on a custom set schedule.
Specialty house cleaning services – We offer professional commercial cleaning services, which are beyond the regular maintenance of your house or office. Our specialty house cleaning services for Alpharetta are handled by experts with long-built relationships between clients.
Office Cleaning Services Questions and Answers
How many people will you send to clean our office?
Depending on how big is your office we dispatch the proper amount of cleaners. We usually dispatch a team of 3 cleaners to directly start cleaning, but in some cases, we send more.
Can you clean our office before our staff starts working?
If you require office cleaning services while there is no staff, we can come earlier, clean and disinfect everything. However, early visits will require an appointment in advance.
By making an appointment with us, we can come before starting work even, and ensure your office is left sparkling clean.